Welcome to Scouts BSA Troop 95
Temple Shalom, 23190 Utica Ave, Port Charlotte, FL
Join us Monday at 7pm
Virtual Meetings on Zoom
We will continue to meet virtually using Zoom meeting. It is important that you join us on these meetings. Each meeting will be only 40 minutes long. You will need to download and install the Zoom software at
Zoom.US
.
Then, visit our Troop Calendar for zoom invitation information.
We encourage you to work together online and have setup a moderated Discord Chat Room for you. Email troop95pc@gmail.com for room info.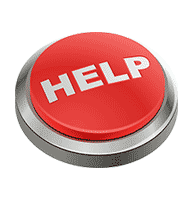 Support & Assistance
For information regarding paying bills, taxes, assistance programs, etc, please visit the website of our troop treasurer, Mary Stewart CPA at PtCharlotteCP.com
As always, your scouting family is hear to help!
Feel to reach out to any of your scout leaders or friends (note: youth protection guidelines prohibit one-on-one contact, including phone and chat)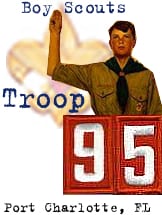 Merit Badges & Advancement
Please continue to work on merit badges and advancement. Use Scoutbook.com to view your progress and practice your skills. I would love to do a whole bunch of advancements the next time we meet!
Some resources available to you: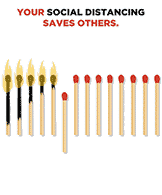 Doing our Best to Do our Duty to God and our Country
Right now, everything seems scary. Businesses are closed and, we've been told to stay home. 
It is important that we do our part, as citizens, to prevent possibly spreading this virus.
Scouts BSA Troop 95 has discontinued troop meetings and activities until the virus is contained.
Remember, your family loves you, talk to them if you are scared or worried.
Visit us
We meet most Mondays, except for July & August. Call or text one of our leaders for more information.
Join Scouting
Scouts BSA is open to youth ages 11-17.  Want to join? Visit one of our meetings and we'll help you get started!
Up Next..
We will continue to meet virtually.  Connection time and dates can be found on our troop calendar. All other activities through April 15th have been canceled or postponed.
Contact one of our great leaders!